Research Interest
The main goal of the group is to have a better understanding of the molecular mechanisms involved in protein function. Nuclear Magnetic Resonance (NMR) is an excellent method to study protein function, providing information about:
Structure
Interactions
Dynamics
We are particularly interested in the correlation between protein dynamics and biological function.
The LABRMN is embedded in a scientific environment (CIQ-UAEM, IBT-UNAM). Primarily we use NMR methodologies to understand the mechanisms of protein complexes assembly and peptide degradation by proteases.
Peptide degradation is crucial for cellular function, having critical roles in development, environmental signaling, growth and proliferation. The complete understanding of the mechanism of regulation remains crucial for the elucidation of the molecular process of diseases caused by improper degradation.
→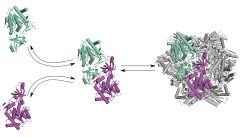 Despite the fact that much is known about the structure of different oligomeric proteins, the mechanism by which these proteins assemble remains poorly understood on structural, kinetic and thermodynamic grounds. In recognition of the central importance of this process we investigate the factors that are responsible for the assembly using NMR methods.
→
The LABRMN group seeks to establish interdisciplinary collaborations between researchers with complementary expertise.
→